Le

Knowledge

Centre met à disposition

les

livres blancs,

des

témoignages de clients et

des articles de

blog. Vous y trouverez également des informations détaillées au sujet de la directive LCB-FT, des bénéficiaires effectifs, des personnes politiquement exposées (PPE) ainsi que

les listes de sanctions

en vigueur.
« Conformité LCB-FT à 100% »
Vous trouverez un certain nombre d'articles rédigés par des juristes et autres professionnels du droit afin de vous préparer au mieux aux contrôles réalisés par les organismes de contrôle. Ce contenu se base sur les questions fréquemment posées par ces organismes lors des audits.
En qualité d'avocat, vous vous devez d'identifier et de vérifier les éléments d'identification de vos clients. Vous êtes assujettis aux obligations relatives à la lutte contre le blanchiment de capitaux et le financement du terrorisme. Il vous revient de mettre en place une organisation, des procédures et des mesures de contrôle interne en matière de LCB-FT.
Êtes-vous parvenus à mettre en place une procédure de contrôle et des mesures de vigilance simples et efficaces ?
How do you determine whether a case is subject to AML?
The supervisor is about to visit your office. His first question will be this: 'How do you determine whether a case, or a file, is subject to AML? Next, he will ask how you lay down the assessment. In this article, we will help you correctly phrase your answer to this question.

Can you show me your AML admin?


The supervisor is about to visit your office. In a previous blog, we already discussed Question no. 1: "How do you determine whether a case is subject to AML?". In this article, we address the supervisor's next question while auditing a law firm. The question is this: "Can you show me your AML records?

Does your office have a written risk policy?
Do you have a risk policy written down on paper, and if so, may I see it? Expect this question during an audit (Section 2a(1) and Section 2b(1) of the AML). It turns out in daily practice, providing the correct answer is easier said than done.




Have AML procedures been drawn up?
This article expands on the previous article: Question no. 3 from the supervisor: "Does your office have a risk policy on paper? How do you put these procedures into practice and what documents should you present during an audit (AML protocol, Articles 2a, b and c of the AML)?

Does the office provide AML courses?
Can you indicate whether you and/or other office staff are following AML courses? What is the frequency of this (Article 3 of the AML Supervision Policy Rule 2018) and when was the last AML course followed?





How did you give shape to the compliance officer position?
The compliance officer position has been introduced to legal firms in recent years. This is mainly because AML expects large firms to appoint compliance officers. The 'AML risk level' of an office also plays a role when it comes to whether or not a compliance officer position should be given shape.

Have you ever reported an unusual transaction?
"Have you ever reported an unusual transaction?" How will you respond to this question (Article 23(1) of the AML)? The AML sets two main obligations: you must identify your clients and you must report any unusual transaction.

Do you include an AML paragraph in the order confirmation?
An important part of the supervisor's audit is the order confirmation.
What does the order confirmation process look like? Do you have an order confirmation for each file and where do you save it? Has an AML paragraph been included?


LCB-FT : les six sujets ayant récemment fait débat
Ci-dessous, vous trouverez un aperçu des sujets ayant récemment fait débat.

Qu'est-ce que la directive AML/LCB-FT ?
AML (Anti-Money Laundering) est le terme de référence pour désigner la législation internationale, transposée au niveau national dans les textes législatifs et règlementaires LCB-FT (Lutte Contre le Blanchiment d'argent et le Financement du Terrorisme) – ou LBC-FT (Lutte contre le Blanchiment de Capitaux et le Financement du Terrorisme). Cet article explique ce que cette législation implique.

AML/LCB-FT : 5 FAQ
La loi sur le blanchiment de capitaux et le financement du terrorisme (LCB-FT) est née de la fusion de deux lois préexistantes: la loi sur l'identification (services financiers) et la loi sur la divulgation des transactions inhabituelles. Vous trouverez ci-dessous les 5 questions les plus fréquemment posées à propos de cette directive.

KYC: what it means
Every European financial institution must screen its customers prior to acceptance. KYC (Know your Customer) aims to combat money laundering, fraud and terrorism. The steps required to ensure proper KYC procedures are mainly background checks. You can read in this article what KYC is all about, what a KYC procedure entails and what role Customer Due Diligence plays in all this.



What is and how do I screen a PEP?
A PEP is a Politically Exposed Person. Due to their influential position, a higher risk of money laundering, for example, is assumed. They have been accused of e.g. bribes, tax evasion and terrorist financing. Now you are probably wondering: "What makes someone a PEP and how do I check?" We provide the answer on this page.

Sanctions Act: how it matters
The Sanctions Act dates from 1977 and was called into existence to combat money laundering and terrorism. Within this Act, the Netherlands implements the sanctions that are in force internationally in the United Nations and the European Union. Organizations subject to this Act must identify all new and existing clients. They should also check whether there are any sanctions against them. The Sanctions Act is complex. We will explain things on this page.

What is a UBO?
The UBO and the UBO register ... what is that all about? Let's start at the beginning: a UBO is an 'ultimate beneficial owner'. If you are subject to AML, you must investigate this person as well as his 'ultimate beneficial ownership'. Failing to do so may result in sanctions. Are you curious about UBOs and your obligations?
Le guide pratique des obligations européennes et nationales en matière de LCB-FT —
Livre Blanc
Pour toutes personnes assujetties à la règlementation LCB-FT
« Conformité LCB-FT à 100% » —
Formulaire
Vos dossiers clients respectent-ils toutes les exigences LCB-FT ?
Témoignage —
Atlas Tax Lawyers / Fiscalisten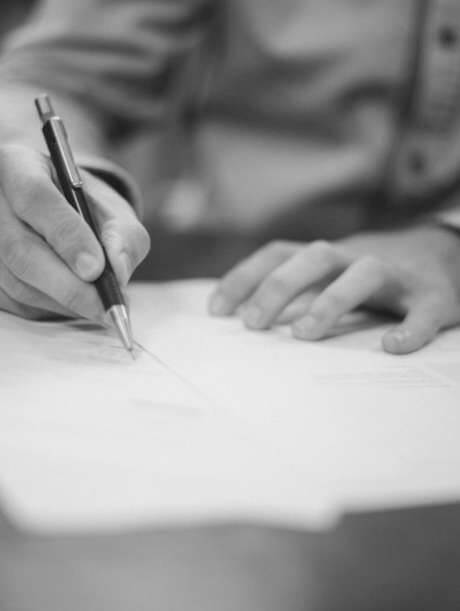 Témoignage —
Banning Lawyers
« Reglab nous a permis de nous assurer que beaucoup de dossiers qui n'étaient pas conformes le soient maintenant. »
— En savoir plus